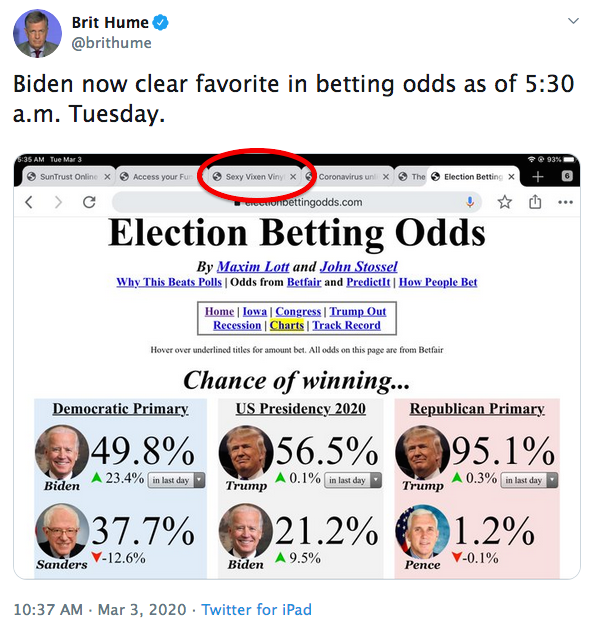 As Jo Biden's presidential campaign roared back from the dead on Super Tuesday, early morning viewers of Fox News found themselves studying a screen grab posted on Twitter by analyst Brit Hume with unusual interest.
https://www.huffingtonpost.co.uk/entry/fox-news-brit-hume-browser-tabs_n_5e5e462fc5b63aaf8f5d29eb?ri18n=true
The pundit had put up a shot taken from his own phone with the main tab open to a site called electionbettingodds.com showing the current US presidential starting prices.
What intrigued many viewers however was one of the other open browser tabs visible in the background at the top of the picture which apparently read "Sexy Vixen Vinyl ".
The shot which was posted online at 5.37am remained up for almost three hours before being deleted, and It attracted plenty of of interest from viewers:
So i think @brithume it trying to send a message to America. And that message is: I'm a naughty, naughty boy, and I need a good spanking…

Love to wake up early in the morning and research my three favorite things: viral outbreaks, politics, and sexy vixen viny ……

People keep laughing about the sexy vixen tab but honestly my first thing was "who banks at SunTrust?" ….