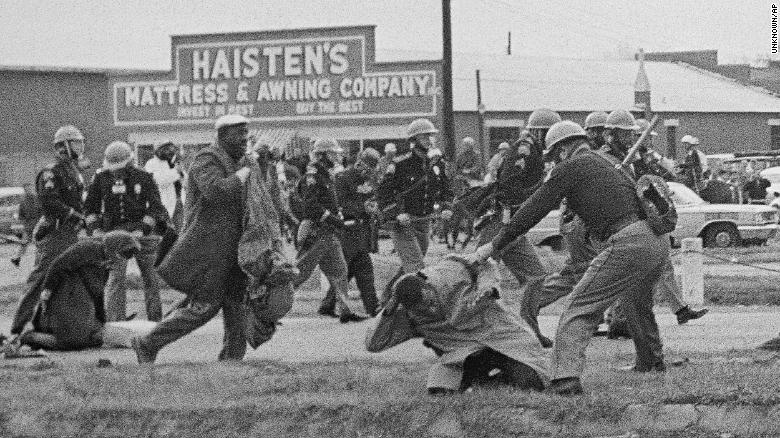 Civil rights activist John Lewis being violently beaten by a baton-wielding state trooper during a peaceful voting rights march at the Edmund Pettus Bridge in Selma Alabama on 7th March 1965. He suffered a fractured skull in this attack.
https://edition.cnn.com/2020/07/18/us/john-lewis-ct-vivian-dead/index.html
Images from that "Bloody Sunday" shocked the nation and galvanized support for the Voting Rights Act of 1965, signed into law by President Lyndon B. Johnson.
Lewis became a Democrat congressman who served as the US representative for Georgia's 5th congressional district for more than three decades. He was considered a moral conscience of Congress because of his belief in a nonviolent fight for civil rights.
In 2011, after more than 50 years on the front lines of the civil rights movement, America's first Black President placed the Presidential Medal of Freedom on his neck.
Lewis has described attending President Barack Obama's 2009 inauguration as an "out-of-body" experience.
When he announced that he'd been diagnosed with stage 4 pancreatic cancer in December 2019, he vowed to fight.
"I have been in some kind of fight -- for freedom, equality, basic human rights -- for nearly my entire life. I have never faced a fight quite like the one I have now,"