Over the years, I have received a number of questions on whether the classical muon experiment in Earth's atmosphere, e.g. the
the Frisch-Smith_experiment
, demonstrate reciprocal time dilation or not. The problem seems to be that many books and articles state that
"one observer sees time dilation, the other sees length contraction, but neither sees both"
.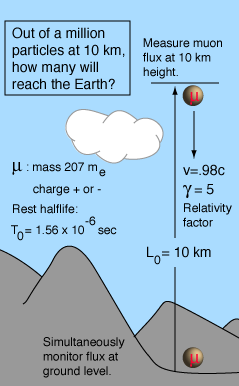 This is just an artifact of the way that the atmospheric muon experiments have to be performed and then explained in the simplest possible way. Some explanations picture imaginary little clocks that are 'created' high in the atmosphere, and that move at relativistic speed down towards Earth. But this is not quite representative of the said muon experiment, which was a statistical count of the rate of muon detection (number per hour) at the altitude of Mount Washington and comparing them to the number detected at ground level in Cambridge. The figure above is about a slightly different scenario, but the principle is the same.
Since the average kinetic energy of the muons was also detected in the process, it was possible to calculate the speed of the muons relative to the detectors and hence deduce the relativistic time dilation that would account for the difference, as per the latter of the two reference given. There was no length contraction observable in the detector frame, simply because muons don't have a 'rest size'. If they were little clocks with physical rest-sizes, sure, the length contraction in the detector frame could have been observed.
In the incoming muon frame, nothing was actually observed, but the logical deduction is made that the altitude difference between the detector locations has been length contracted to allow the observed number of muons to survive until reaching the bottom detector, given their observed decay statistics when moving slowly. If there were hypothetical observers riding with the muons, they could have measured this length contraction directly. Likewise, they could have, through cunning experimental setups, observed that muons slow-moving in earth laboratories are actually time dilated in the hypothetical observer frame.
So, the confusing statement quoted above is an experimental limitation, not a physical one. Reciprocal time dilation and length contraction are both alive and well, unless you bring difference in spacetime profiles into the picture, like in the classical "twins-paradox". Actually, the muon experiments discussed here do have a degree of non-symmetry due to gravity and atmospheric resistance, but the influence is tiny and it is anyway compensated for in the actual experimental reports.