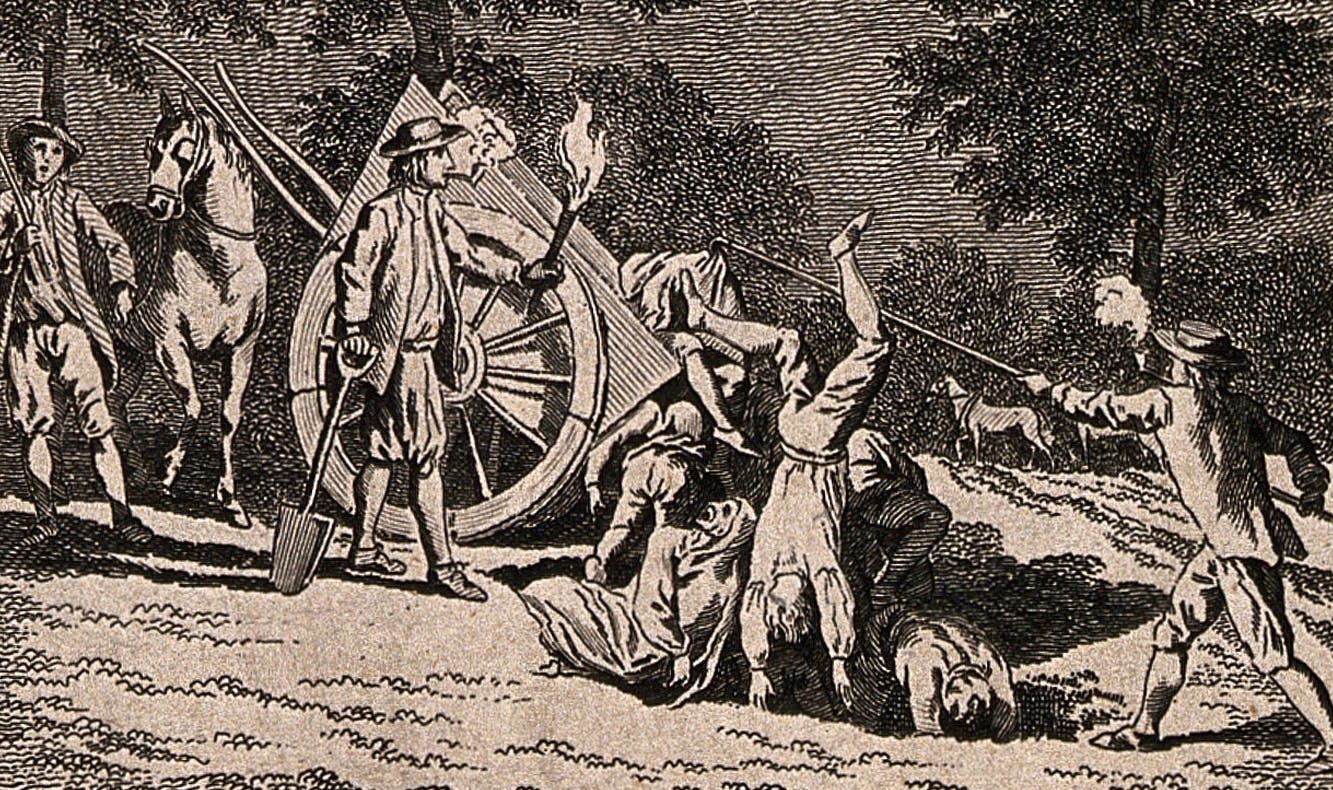 (Burying Plague Victims in Holywell London)
In 1665 London was devastated by a major outbreak of bubonic plague that killed up to 100,000 victims (around 20% of the population). Many people fled from London and other major cities to avoid the pandemic. One of them was a 24 year old student called Isaac Newton who left Cambridge and took refuge at his childhood home of Woolsthorpe Manor in Lincolnshire during that summer, and found himself with time on his hands sitting out in an orchard garden watching apples fall from a tree.
https://www.nationaltrust.org.uk/woolsthorpe-manor/features/year-of-wonders
This interlude subsequently became known as Newton's
Annus Mirabilis
. Freed from the restrictions of the limited curriculum and and rigours of university life, Newton had the time and space to develop his theories on calculus, optics, and the laws of motion and gravity. His key experiments with prisms and light are thought to have taken place in his chamber at Woolsthorpe.
Isaac Newton returned to university life at Cambridge. Six months later he was elected as a Minor Fellow of Trinity College and two years later he was appointed as the second Lucasian Professor. With his academic position and income secure, he continued to develop his ideas and research from Woolsthorpe Manor.
The course of the plague was described in great detail by a number of writers, notably by Daniel Defoe in his
Journal of The Plague Year
which was a retrospective account published almost 60 years later in 1722, but based extensively on the eyewitness testimony of his uncle Henry Foe who lived through the pandemic.
https://www.gutenberg.org/files/376/376-h/376-h.htm
Many imperfect medical theories existed at that time as to quite what caused the plague or 'distemper' as Defoe often called it. One favoured explanation was that it arose from the foul smells and invisible miasmas that polluted the air of the great cities (rather as in the Italian derived term
Malaria
). This conceit led to one of the more interesting nostrums of the epoch, which was a recommendation that both men and women should consume as much tobacco or snuff as they could possibly stand, and keep lamps and candles burning day and night in all their rooms.
https://wellcomecollection.org/articles/XJuZahAAAEQGUhrg
Tobacco was also widely relied on by those tasked with disposing of the dead who always smoked a clay pipe to keep the disease at bay. (See picture at top). Daniel Defoe referred to this himself in the following anecdote from his
Journal of The Plague Year.
This brings these two men to a further remembrance. The name of one was John Hayward, who was at that time undersexton of the parish of St Stephen, Coleman Street.. Here they went with a kind of hand-barrow and laid the dead bodies on it, and carried them out to the carts; which work he performed and never had the distemper at all, but lived about twenty years after it, and was sexton of the parish to the time of his death. His wife at the same time was a nurse to infected people, and tended many that died in the parish, being for her honesty recommended by the parish officers; yet she never was infected neither.
He never used any preservative against the infection, other than holding garlic and rue in his mouth, and smoking tobacco. This I also had from his own mouth.
The other notable chronicler of the plague was the diarist Samuel Peyps who was 34 at the time and was able to relocate to safety in Greenwich. Like many others, Peyps chewed tobacco incessantly to ward off contagion, and he also refused to wear a wig, in case the hair had been shorn from the head of a plague victim.
Samuel Pepys documented the outbreak in chilling detail:
I did in Drury-lane see two or three houses marked with a red cross upon the doors, and "Lord have mercy upon us" writ there – which was a sad sight to me..
Nobody but poor wretches in the streets.. no boats upon the River.. fires burning in the street to cleanse the air .. little noise heard day or night but tolling of bells.. the nights (though much lengthened) are grown too short to conceal the burials of those that died the day before.. I am come almost to think nothing of it.'
He records that in addition to a number of friends colleagues and relatives, he also lost his brewer, baker, and his physician to the disease