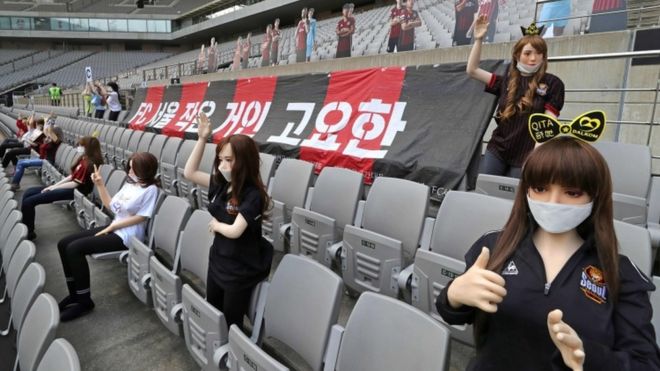 As South Korea starts to ease its Covid-19 lockdown by allowing professional football teams to begin playing matches again, one premier club found a novel solution to the problem of empty terraces in grounds where matches were being played behind locked doors.
https://www.bbc.co.uk/news/world-asia-52702075
Top-flight South Korean side Seoul FC was forced to apologise after fans accused them of using sex dolls to populate the stands.
FC Seoul insisted they were "premium mannequins" rather than sex dolls - but did admit they came from a supplier that produces sex toys.
And some of the dolls were holding signs advertising x-rated websites - despite pornography being banned in South Korea.
The mannequins' manufacturer told the BBC they had apologised to FC Seoul. But they also reiterated that the dolls were merely "premium mannequins".
Datacom the company who supplied the mannequins said the adverts came from a sex toy company who placed orders with Dalcom, and wanted to take pictures of the mannequins before the game.
"They were supposed to take all the logos down before the game started," Dalcom director Cho Young-june told the BBC. "But there were several hairbands and logos left to be caught by public eye."
FC Seoul official Lee Ji-hoon told the BBC it didn't do a background check on Dalcom, and didn't realise they worked in the sex industry.