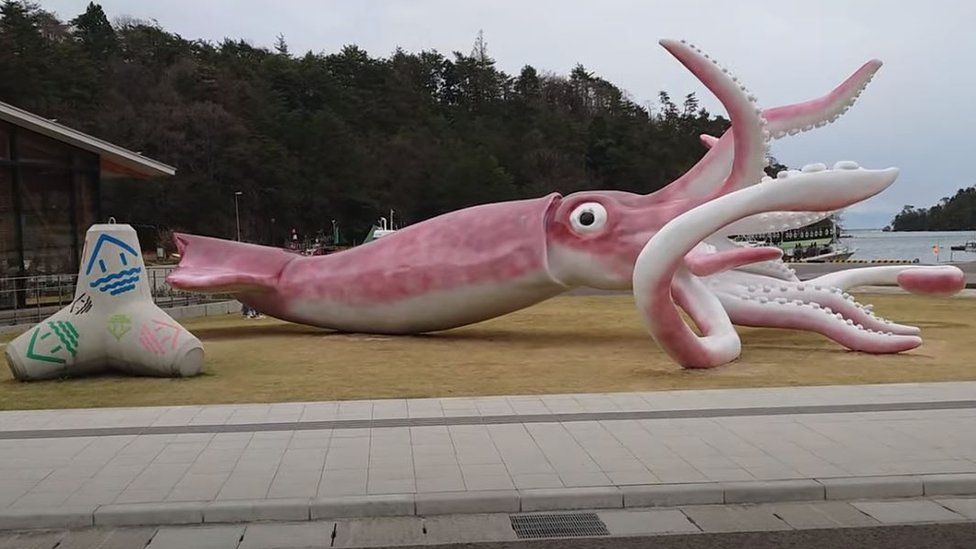 A seaside town in Japan has raised eyebrows after it used funding from an emergency Covid-19 relief grant to build a giant statue of a squid.
https://www.bbc.co.uk/news/world-europe-56978075
The 13m-long (43ft) sea creature lies in the port of Noto, where flying squid is the town's delicacy.
It reportedly used 25m yen ($228,500; £164,700) of the emergency funding to build the statue. Noto officials have told local media it is part of a long term plan to lure tourists back after the pandemic.
Japan is battling another surge in coronavirus cases, and Tokyo is currently under a state of emergency - the third for the country since the pandemic began.
The fishing town of Noto (能登半島,
Noto-hantō
) - which is located in Ishikawa prefecture on Japan's central-west coast - has had a very low number of cases, but it has been impacted by the significant drop in tourists.
A spokesperson for the town told Fuji News Network that the statue would be a tourist attraction and part of a long term strategy to help promote Noto's famous flying squid.
The Japanese flying squid ( 烏賊 -
ika
) is also known as the Japanese common squid or Pacific flying squid, and has the scientific name
Todarodes pacificus
.
Flying squid propel themselves out of the water to escape predators, and have been seen to cover distances of up to 30m.