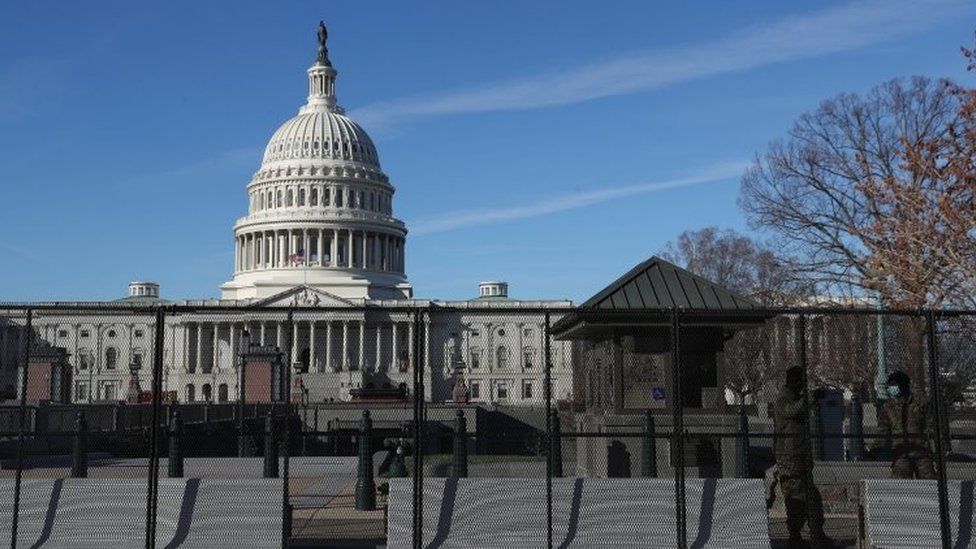 New security fence near Capitol Washington DC
US security officials have warned of possible armed protests being held across the country in the days before Joe Biden is sworn in as president.
https://www.bbc.co.uk/news/world-us-canada-55625707
There are reports of armed groups planning to gather at all 50 state capitols and in Washington DC in the run-up to his 20 January inauguration according to an internal FBI bulletin dated 8 January obtained by ABC News, which says the bureau received information in recent days on a group calling for "storming" state, local and federal government courthouses and administrative buildings in the event President Donald Trump is removed from office prior to Inauguration Day.
The group is also planning to "storm" government offices in every state the day President-elect Joe Biden will be inaugurated, regardless of whether the states certified electoral votes for Biden or Trump.
Security plans in Washington DC are being tightened for the event, which will happen two weeks after a pro-Trump mob stormed Congress. But Michael Plati, the US secret service agent in charge of the inauguration, said officials stand ready to make sure there are no further security breaches in Washington on the big day.
https://news.sky.com/story/trump-impeachment-charge-accuses-him-of-incitement-of-insurrection-12185195
The National Guard will have up to 15,000 personnel in the city, with 10,000 in place by this Saturday, some six days earlier than originally planned.
The famous Washington monument obelisk is also being shut down until 24 January, according to the US National Parks Service.
It said it had taken the decision after "credible threats to visitors and park resources" from groups involved in last week's violence.
In Lansing Michigan, a state panel on Monday banned the open carry of guns in Michigan's Capitol, a week after an armed mob rioted in the U.S. Capitol and following a plot last year to storm the statehouse.
https://www.pbs.org/newshour/politics/michigan-bans-open-carry-of-guns-inside-state-capitol
Moves to ban weapons at the statehouse have been pushed since April, when protesters opposed to Gov. Gretchen Whitmer's COVID-19 restrictions, some armed with long rifles and other weapons, entered the Michigan Capitol demanding to be allowed onto the floor of a legislative chamber that was closed to the public.
Some of the anti-government extremists subsequently accused in a plot to kidnap Whitmer had carried guns at lockdown protests at the Capitol last spring. Prosecutors say the accused ringleader initially talked of recruiting 200 men to storm the building, take hostages and "execute tyrants." A secondary plan involved locking exits and setting the statehouse on fire, according to court documents.