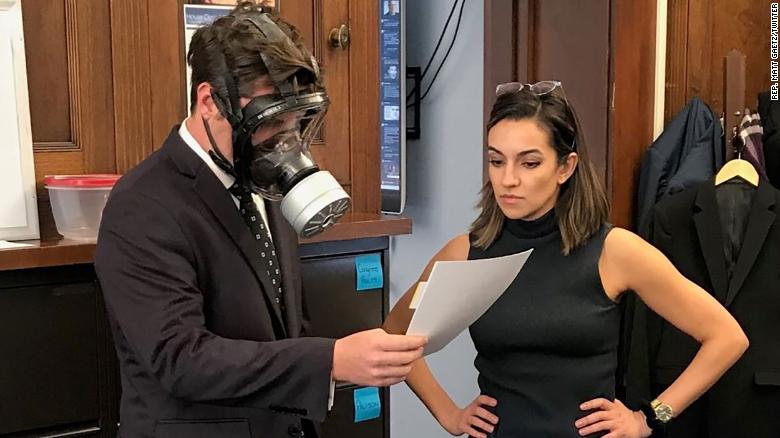 Rep. Matt Gaetz trolling Congress in a gas mask - 4 March 2020
Rep.Matt Gaetz 38, a prominent Republican Congressman from Florida was facing demands last night that he either resign or be removed from his position on the House Judiciary Committee after the
New York Times
broke a story on Tuesday that Gaetz was under DOJ investigation for alleged sexual trafficking offences involving a 17 year old girl.
https://www.nytimes.com/2021/03/30/us/politics/matt-gaetz-sex-trafficking-investigation.html
The story dates back to another DOJ investigation in August 2020 when a close friend of Gaetz called Joel Greenberg was arrested and indicted for the sexual trafficking of minors in Seminole Florida. Greenberg who had been elected as a County Tax Inspector in 2016 was also charged with fraud, harrassment of a political rival, improper use of state DVLC databases, forgery, identity theft, and impersonating a police officer.
Rep. Matt Gaetz gave an interview to Tucker Carlson on the Fox TV channel on Tuesday during which Gaetz tried to alter the narrative by stating that he was the victim of an extortion attempt by a former Florida DOJ official called David Mcgee. Gaetz claimed that his family had been approached on 16 March with a demand for $25 million, and that his father had been asked to wear a wire recording device by the FBI.
At one point Matt Gaetz tried to enlist Tucker Carlson as a character witness by suggesting that Carlson would remember another young lady he had brought to dinner at the Carlsons a couple of years ago who had similar tales of 'deep state' extortion attempts. Tucker Carlson pursed his lips and replied carefully that he had no recollection of any such lady or dinner date, and swiftly cut to a commercial break. On his return, Carlson said his encounter with Gaetz was "the weirdest interview he had ever done".
Gaetz actually manged to implicate himself in several other forms of potential criminal exposure too, by referring to allegations of "pay to play", and "incriminating photos" - none of which have formed any part of the public reporting to date.
The DOJ and FBI have declined to comment publicly on any aspect of this story to date, but a couple of points stand out. First, the investigation into Gaetz's friend Joel Greenberg began last summer in 2020 during the Trump administration when William Barr was the Attorney General in charge of the DOJ. Earlier that year Barr had issued a DOJ memorandum advising that no criminal investigations involving prominent politicians were to be opened in an election year without his personal sign-off.
Second, is that nothing in Gaetz's counter-narrative of an alleged extortion attempt speaks to whether or not he had any involvement with his close friend Greenberg's alleged sexual trafficking offences with a 17 year old girl. In Florida it happens to be a felony offence for anyone aged 24 or over to have a sexual relationship with a 17 y/o minor.
One final point is that this affair throws new light on the fact that back in 2017 when he was newly elected to Congress, Rep. Matt Gaetz was the only member of the house to vote No against a bi-partisan bill intended to raise the criminal penalties for the sexual trafficking of minors across state lines.
https://www.thewrap.com/matt-gaetz-vote-sex-trafficking-bill/
Meshuga
- (Hebrew/Yiddish) -
'Craziness', 'Madness'