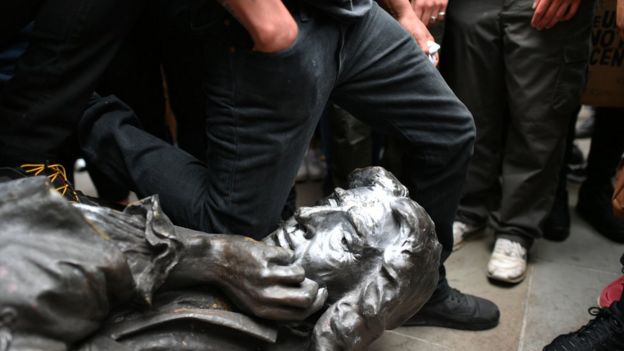 My home town of Bristol is in the headlines this afternoon after the memorial statue of a well-known 18th century slaver was torn down and thrown into the city harbour by a large group of protesters.
https://www.bbc.co.uk/news/uk-52954305
In Bristol, protesters used ropes to pull down the bronze statue of Edward Colston, a prominent 17th Century slave trader, who has been a source of controversy in the city for many years.
Colston was a member of the Royal African Company, which is believed to have transported about 80,000 men, women and children from Africa to the Americas.
On his death in 1721, he bequeathed his wealth to charities and his legacy can still be seen on Bristol's streets, memorials and buildings.
After the statue was toppled, a protester posed with his knee on the figure's neck - reminiscent of the video showing George Floyd, the black man who died while being restrained by a Minnesota police officer.
The statue was later dragged through the streets of Bristol and thrown into the harbour. The empty plinth was then used as a makeshift stage for protesters.
Local police said there would be an investigation into the downing of the statue.
Historian Prof David Olusoga told BBC News that the statue should have been taken down long before.
He said: "Statues are about saying 'this was a great man who did great things'. That is not true, he [Colston] was a slave trader and a murderer."
Some 10,000 people are believed to be protesting in Bristol. Many bore placards bearing George Floyd's name alongside slogans such as Black Lives Matter and 'I Can't Breathe'.
The statue of Edward Colston stood for many years in the St Augustines Parade area of Bristol city centre close to the church of St Mary on the Quay, not far from Colston Avenue and the Colston Hall.
It was thrown into the harbour near the modern Pero footbridge which was named after a young 18th century slave known to have once lived nearby.